Clinical negligence in diagnosis and treatment of Cauda Equina syndrome
Cauda Equina is a medical emergency which requires the condition to be diagnosed and treated generally within 48 hours to relieve the pressure on the nerves.
Delays in diagnosing or treating Cauda Equina can lead to permanent or irreversible damage.
As the effects on individuals are usually quite extensive, Cauda Equina settlements are often substantial.
Seeking specialist advice early can significantly influence the outcome of your compensation claim.
Moore Barlow Cauda Equina Solicitors have been appointed to the legal advice panel established by the Cauda Equina Syndrome Association (CESA) to help support their important work for people who have cauda equina syndrome.
We have a wealth of experience of spinal injury claims at Moore Barlow and in particular cauda equina syndrome. We have dual qualified (medical) lawyers and lawyers with experience of investigating clinical negligence claims to obtain compensation.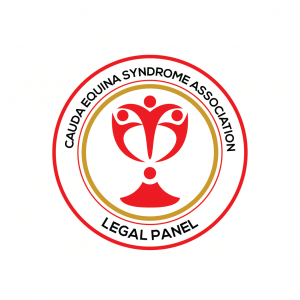 What is Cauda Equina Syndrome?
Cauda Equina Syndrome (CES) is a rare condition that affects a group of nerve roots located at the bottom of the spinal cord. Failure to diagnose, and therefore treat CES, can result in harmful and often long-term health problems.
What happens is that the nerves become compressed and usually surgery is required to relieve that compression. The pressure on the nerves can occur as a result of a slipped disc, tumour on the spine or an abscess. Failure to diagnose, and therefore treat CES, can result in harmful and often long-term health problems.
CES typically occurs more often in adults than children. Individuals with CES will suffer from compression of these spinal nerve roots, which tend to be categorised by a number of symptoms that are referred to as "red flag" symptoms. These "red flag" symptoms can include:
Numbness, pain or weakness in the legs that causes mobility problems.
Severe lower back pain.
Bladder or bowel problems, including both retention and incontinence.
An altered sensation in the buttocks, legs, inner thighs, backs of the legs or feet which is severe or becomes increasingly worse.
It is imperative that Cauda Equina Syndrome is quickly diagnosed after the symptoms occur. A doctor will typically make the diagnosis based on several factors, including:
Your medical history in regards to your health, symptoms and activity.
A physical examination, with the possibility of blood tests.
CT radiology scan.
A 3D image of your spine through an MRI radiology scan.
An X-ray of the spinal canal to identify pressure points on the nerves or spinal canal.
Cauda Equina is a medical emergency which requires the condition to be diagnosed and treated generally within 48 hours to relieve the pressure on the nerves. Surgery must be performed quickly to prevent permanent damage to the nerves which can result in loss of bowel and bladder control, paralysis of the legs, loss of sexual functions and neuropathic pain.
Despite being given treatment, not all patients recover full function as this depends on the amount of damage and the speed in which surgery was performed.
Delayed or missed diagnosis and delay in treatment are the key reasons for Cauda Equina clinical negligence claims because lost time can lead to permanent and irreversible damage.
Clinical negligence claims
Our experienced clinical negligence team have years of experience in dealing with Cauda Equina compensation claims. There are many reasons why a claim for clinical negligence may arise to include:
Misdiagnosis. Frequently clinicians fail to properly take a detailed medical history or perform a thorough physical examination and miss key "red-flag" symptoms.
Delayed investigations. Patients require urgent investigation to confirm the diagnosis but there are, in some circumstances, still delays of days or weeks in undertaking essential investigations.
Inadequate or poorly performed surgery resulting in cord compression.
A failure to recognise post-operative complications following surgery.
If you have been diagnosed with CES and are unhappy with the medical treatment you received, you may want to discuss with us what your options are. If we believe that you have a claim for compensation we will advise you.
Specialist advice could significantly influence the outcome of your claim. Clinical negligence claims are complex – you'll need the support of specialist clinical negligence solicitors who have what it takes to deliver results in this highly technical and complex area of law.
We are one of the top clinical negligence teams in the country. With many years' experience of claims against hospitals, GP's and other healthcare providers, we have a consistently strong track record and are regarded as leaders in the field.
Cauda Equina settlements are often substantial as the effects on individuals are usually quite extensive. As well as damage to bladder, bowel and sexual function, there can be restrictions on mobility and ongoing pain, often leading to an inability to work and the need for extensive help with everyday living. The level of your disability and symptoms will generally dictate the level of settlement.
It is vital in any case that you maximise your recovery through active rehabilitation. Where a compensation claim does exist and errors in treatment have arisen our aim is to help rebuild your life by obtaining interim payments of compensation, wherever possible at any early stage, to assist you with your recovery to include needs relating to:
Rehabilitation
Re-education/training
Transport
Housing
Aids and equipment
Care support
Therapeutic services
Case management
We can advise you on your benefit rights and also advise on dealing with debts which might arise due to being off work.
Our expert team are based across our offices in Southampton, London, Woking, Richmond, Lymington and Guildford, and we operate nationally. Contact us for specialist support today.
Frequently asked questions about Cauda Equina Syndrome and compensation claims
What are the first signs of Cauda Equina?
The specific symptoms associated with compression of the cauda equina are referred to as 'red flag' symptoms and these occur in the early stages of CES. Often the first signs can include:
Bilateral leg pain/weakness/numbness;
Severe lower back pain;
Sexual dysfunction;
Numbness in or around the groin, back passage and/ or genitals;
Bladder and/or bowel problems, including both retention and incontinence of urine;
An altered sensation in the buttocks, legs, inner thighs, backs of the legs or feet which is severe or becomes increasingly worse.
What are the symptoms of Cauda Equina Syndrome?
Symptoms of Cauda Equina Syndrome will have a very sudden onset and can include:
Sciatica on both sides – which usually manifests as pain, tingling, numbness and weakness to the back of the legs, the bottom and sometimes in the back or the feet and toes.
Severe or worsening weakness or numbness in both legs
Numbness around or under the genitals or anus
Not being able to control urination or passing faeces as you normally can
Emergency hospitalisation and treatment is required for someone diagnosed with Cauda Equina Syndrome.
What causes Cauda Equina Syndrome?
There are a variety of different causes for Cauda Equina Syndrome; the most common causes of CES include, but are not limited to:
Tumours that compress the cauda equina
A spinal injury or fracture caused by trauma e.g. a fall
An injury caused by a medical procedure
A slipped or prolapsed disc
How is Cauda Equina Syndrome treated?
Treatment for CES is by means of surgery to relieve the pressure on the cauda equina nerves (decompression surgery). Surgery is typically required within 24 to 48 hours of symptoms, depending on the severity of the symptoms, to ensure the best possible outcome for the patient.
Any delay in the diagnosis and treatment of CES will lead to a less optimal outcome with permanent nerve damage. If permanent damage is sustained, the effects can be devastating and can include:
Bowel disturbance (medication/manual help may be required to pass a motion)
Bladder disturbance (use of a catheter may be required to pass urine)
Paralysis or weakness of the legs (resulting in limited mobility with dependence on a wheelchair or walking aid);
Loss of sexual function (inability to climax and/or reduced genital sensation);
Neuropathic pain in legs and feet of varying degrees (including severe sporadic pains);
Loss of sensation or abnormal sensation to the feet or legs (sensation may feel like walking on scrunched up paper and feet or legs may also feel uncomfortably cold or hot).
How common is Cauda Equina Syndrome?
Cauda Equine syndrome is a fairly rare condition. This can sometimes mean that medical professionals might come to an incorrect diagnosis or delay the treatment for CES, which can have serious and permanent consequences for the patient.
What is a Cauda Equina claim?
If your Cauda Equina Syndrome was not correctly diagnosed and treated early enough due to medical negligence, meaning that you are left with long-term or permanent damage as a result, you may be able to make a claim for compensation.
A successful CES claim would mean that you would be awarded a sum of compensation to help with your rehabilitation and to start rebuilding your life.
How to claim for Cauda Equina
An experienced clinical negligence solicitor can help you to make a claim for Cauda Equina Syndrome if you have suffered as a result of a medical error, late diagnosis, misdiagnosis or delayed treatment.
There are various eligibility criteria for making this type of claim, including time limits, so it's important to access expert legal advice to see if you can proceed with a claim and to find out what is involved in the process. Our experienced team can offer specialist support at every stage of the claim.
What are the steps in a Cauda Equina case?
The claim process for Cauda Equina Syndrome compensation includes several steps that will be carried out by your solicitor, including:
An initial claim assessment
Obtaining medical records
Preparing witness statements
Commissioning expert medical experts
Putting a value on the claim i.e. the compensation amount sought
Negotiating with the other party on your behalf

It's unusual for a claim of this type to go to court as they are usually settled earlier in the process. However, if your claim does require court proceedings, we offer specialist advice at all times and ensure you're always aware of the progress of your claim and what to expect next.
How much compensation for Cauda Equina?
The amount of compensation that you will receive for a successful Cauda Equina Syndrome compensation claim will very much depend on the circumstances and the severity of the injury you have suffered due to the clinical negligence.
We will assess the potential value of your claim once all of the details are known and an expert has given their opinion on your injury and the impact that it has had, and will have in the future, on your life and normal activities. Compensation can also include reimbursement for any lost income you have already suffered due to your injury e.g. lost wages, as well as any other out of pocket expenses.
How can we help with your Cauda Equina claim?
Our expertise and proven track record in this area of law means that we have access to many of the country's top medical experts and we can also offer practical advice and support along with our professional legal advice.
We can help with every aspect of your CES claim, from the initial eligibility assessment, right through to a successful outcome and the awarding of your compensation.
Why choose us as your Cauda Equina claims solicitors?
Moore Barlow have a dedicated team of highly experienced solicitors who have worked on many cases related to Cauda Equina Syndrome previously, which makes us ideally placed to offer truly specialist support on every level.
We understand that making a Cauda Equina claim isn't just about compensation; it's also about finding a sense of justice for what has happened and can be a foundation on which to rebuild your life and start moving forwards from your injury.
Get in touch today for more information on how we can help with your claim.