Divorce using the same lawyer – costing information
Our single lawyer divorce and separation service follows an 8-step process.
Both individuals will follow the same eight-step process which costs a fixed-fee of £14,500 plus VAT per couple. This fixed-fee cost is spread across each stage of the process.
Payment is required in advance of each stage. At the first joint meeting we will discuss how the costs will be funded. Additional support and expert advice can be added on at additional cost, but we will discuss each potential add-on with you at the relevant time. Often, this extra support is not required and there is no obligation to use them.
Price breakdown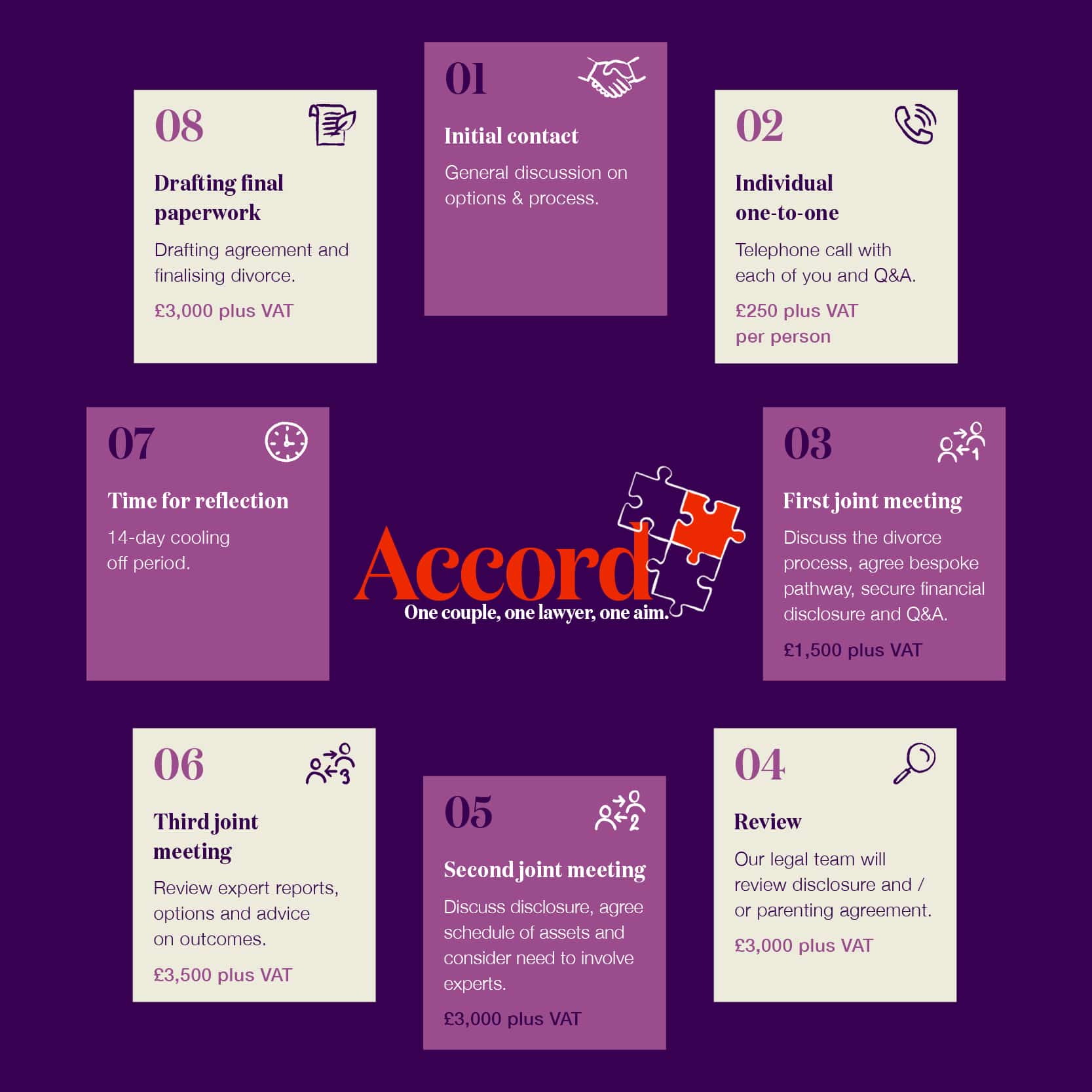 To view what each stage of the process entails, click here.
Initial contact
Individual one to one consultation session

£250 per person (plus VAT)

First joint meeting
Review
Second joint meeting
Third joint meeting
Time for reflection
Drafting final paperwork
Do you have other questions beyond costings? Read our FAQ page which answers other key questions
Our team of family law solicitors
Why use Moore Barlow?
As a team our focus is on resolving your issues in the best way for your family. We are leaders in our field, we are all members of Resolution, a community of family justice professionals who work with families and individuals to resolve issues in a constructive way.
At Moore Barlow we work in a constructive, non-confrontational way with a focus on the best interests of your children.
We will:
Listen to you both, be honest with you and treat you each with respect.
Explain all the options to empower you to make the right decisions.
Help you each focus on what's important in the long term for you and your family.
Help you balance financial and emotional costs with what you want to achieve.
Work with others to find the best solutions for you.
Manage stress in what can be an already stressful situation.
As Partners in the team we are highly qualified and experienced lawyers, trained to deal with a wide range of family law matters such as divorce, separation, children and finances. We will take time to understand your needs and offer a wide range of services to support you and your family in the right pathway to resolution.
We can offer you the assistance of therapeutic support during this process to assist you each individually. We can also offer coaching to help you both achieve a mindset to move forward towards resolution. These services are in addition to the legal process undertaken by our lawyers.
Download our Accord brochure
Download and explore our full service offering for Accord – one couple, one lawyer, one aim.
Download
I have felt very comfortable dealing with them despite the difficulty of the situation and have welcomed their calm, objective and outcome-oriented advice and work.
Chambers and Partners
Highly effective, polished, and impressive. Remarkably calm under any pressure, it would seem. More than capable of the biggest cases. A winning combination of judgement, intelligence, client care, and astute tactics.
Legal 500
There are a number of key individuals who are impressive to deal with when dealing with complex financial matters. The team work well together and appear to deliver a strong service to clients. Many of the team are professional to deal with and have specialist expertise in dealing with high-net-worth individuals.
Legal 500