Providing the specialist legal support you need to deal with contentious probate, inheritance and trust issues
There can be many reasons why you want to bring a claim. You could have doubts about the capacity of the person who made the Will or about the influence a beneficiary had over them; concerns as to whether you've been left enough money to provide for your maintenance; or you might be worried about how an estate or trust is being managed, and want to take action against the executors or trustees.
Alternatively, you might be facing a challenge from someone else.
Bringing or defending these claims can involve complex legal arguments so it's important to have the support of an experienced, specialist solicitor.
We have extensive expertise in this area, and we will give you honest, practical advice about the merits of your case and how best to go about securing the outcome you want.
Losing a dearly loved family member or close friend is difficult, and can be even more upsetting if there is a dispute over the will or estate. Resolving these issues needs a solicitor who can combine diplomacy, determination and expert knowledge.
What is contentious probate?
Contentious probate refers to disputes that arise during the administration of a deceased person's estate, such as disagreements over the distribution of assets or challenges to the validity of a will. These disputes are usually resolved through litigation in the courts.
What is an inheritance dispute?
An inheritance dispute refers to a disagreement over the distribution of assets or property that is left behind by a deceased person. This can occur due to a lack of clarity in a will, disputes over the validity of a will, or disputes between beneficiaries.
Challenging the validity of a Will
For a Will to be valid, it must be in writing and signed by the deceased in the presence of two witnesses, who also signed the Will in the presence of the deceased. Even if all this seems correct, you might still have doubts about the Will, for example because you think:
The deceased did not have sufficient mental capacity to make changes to their Will, especially if it was changed just before they died.
The deceased did not understand or approve the Will.
They may have been forced into signing their Will (known as undue influence).
They may have been tricked into signing their Will (fraud).
If you're concerned about the validity of a Will and think there may be something wrong with it, you or your solicitor should lodge a caveat at the probate registry. This will stop an executor from being granted probate to administer the estate, and give you six months to investigate whether your concerns about the Will are justified.
Alternatively, if you're a beneficiary of an estate and someone is challenging the validity of the Will, we can advise you on the merits of their claim, and the likely costs of defending or settling it, to help you decide how best to respond. Whatever you decide, we will be here to support you all the way.
Mutual Wills
A Mutual Will involves a mutually binding irrevocable agreement between the spouse and their partner that prevents the survivor changing their mind about how the estate can be distributed after the death of the other partner.
A common reason for disputes involving Mutual Wills is a change in the surviving spouse's circumstances, such as marrying again or having more children. This raises the issue of whether their new partner or (and her or his children) could ever benefit from the estate.
Going to court to challenge a Mutual Will can be complex, but the argument is usually concerned with whether:
The agreement was made in a particular form.
The agreement was binding and contractual.
It was intended to be irrevocable.
The surviving party intended the Will to uphold that agreement.
If you want to debate or dispute a Mutual Will, the success of your challenge will most likely depend on whether there is irrefutable evidence that confirms all four of the points above. This generally requires a lot of detailed investigating and quite possibly some prolonged arguments in court, so it can be a long and demanding case.
We recommend you get our advice as soon as possible if you want to challenge a Mutual Will or if you're thinking of making one.
Claiming under the Inheritance (Provision for Family and Dependants) Act 1975
If you have been left out of a family member's Will or intestacy, or your inheritance is not what you expected, you may be able to challenge it under the Inheritance (Provision for Family and Dependants) Act 1975.
The deceased will need to have been domiciled in the UK and you'll need to be one of the people entitled to claim:
The spouse or civil partner of the deceased
A divorced spouse or civil partner of the deceased, as long as you haven't married or entered into a civil partnership with someone else
Someone who lived with the deceased for at least two years before they died
A child of the deceased (including children over 18)
Someone who the deceased treated as one of their children, such as an adopted or fostered child or step child
Someone who was being cared for by the deceased, before they died
If you are claiming as a spouse or civil partner – or in some specific cases as a former spouse or civil partner – the court considers what financial provision it would be reasonable for you to receive in the circumstances, whether or not you actually need it for your maintenance. In all other cases the court considers what provision would be reasonable for you to receive for your maintenance.
In assessing a claim, the court takes into account a number of general factors:
the current and likely future financial resources and needs of all claimants and all beneficiaries
any obligations and responsibilities that the deceased had to any claimant or beneficiary
the size and nature of the deceased's net estate
any physical or mental disability of any claimant or beneficiary
any other matter – including the conduct of the claimant or anyone else – that the court considers relevant
The court also looks at factors relating to particular types of claimant. For example, in the case of a spouse or civil partner, the court takes into account the age of the claimant and the duration of the marriage or civil partnership, as well as the contribution made by the claimant to the welfare of the deceased's family, and will also have regard to what the claimant would have received in the event of a divorce or dissolution.
If the court is satisfied that reasonable financial provision has not been made, it has the power to make various orders, including:
the transfer of property
the payment of a lump sum of money
the making of periodical payments
If you urgently need financial assistance the Court can order interim payments pending the outcome of the proceedings.
To make a claim, you should start your court case within six months of the grant of probate, so we recommend you talk to us as soon as possible. We can tell you whether a grant of probate has been obtained, advise you whether you have a claim, and explain what will happen if we go ahead.
Alternatively, if you are a beneficiary of an Estate and someone is bringing an Inheritance Act claim against the Estate, we can advise you on the merits of the claim and guide you through how best to defend or settle the claim.
Problems with executors or trustees
You might feel an executor or trustee is not fulfilling their duties properly when they are administering an estate or trust. For example, they might not be preparing the accounts correctly or keeping you informed. Perhaps they are also a beneficiary of the estate or trust, and you suspect they are not acting impartially.
If you can prove their actions have caused a loss, you can claim for compensation from them, obtain an injunction to stop them acting or apply to have them removed from their post. On the other hand, if you're an executor or trustee facing these claims, we can investigate on your behalf and help defend your position.
The importance of good advice
Disputes about Wills, estates and trusts can be emotionally charged, particularly when the people involved are family members. When the estate or trust has significant value, the dispute can also be hotly contested. These disputes are technical in nature and there is the potential to make mistakes, such as providing insufficient evidence, that can prove very expensive.
This is why it's very important to have the support and reassurance of our expert legal advice. We make sure you understand your rights and responsibilities, the merits of your case and the likelihood of a successful outcome. We will work hard to help you put matters right, ideally without having to go to court, whilst using a calm and sensitive approach to help preserve family relationships where possible.
You shouldn't rely on your legal costs being paid from the estate or trust, as this is not necessarily the case. If you are making a claim, you could be personally liable for the costs involved. We always give you an estimated cost at the outset and advise you on funding the cost of going to court.
We have offices in London, Richmond, Southampton, Guildford, Lymington and Woking and offer specialist support and expert advice nationwide.
Our team accreditations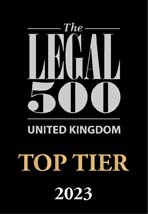 Frequently asked questions:
What is contentious trusts and probate?
This is a dispute that arises as a result of a deceased individual's estate and/or will, usually because it is believed the will in question should be interpreted differently or for some reason is invalid. This is ensures that the deceased individual's last wishes are carried out properly.
Who are the trustees of a will trust?
A trustee does what is best for those named as beneficiaries of a trust of estate, as well as being given the legal right to hold or release property or any financial assets so as to act in the best interest of the deceased.