About Louise
Specialisms
Lease extensions
Collective enfranchisements
Right of first refusal
Right to manage
General leasehold reform
Introduction
I am a senior associate solicitor in our Leasehold Enfranchisement team which sits with our wider real estate team.
My practice areas include lease extensions and freehold purchases and sales under the leasehold reform, housing and urban development Act 1993 and on a voluntary basis. I also deal with right to manage applications and freehold sales and purchases which are subject to the right of first refusal provisions under the Landlord and Tenant Act 1987.
What I do
I work with individual and groups of private leaseholders, residents' associations and companies and I also advise private and investment landlords, institutional lenders, national and regional house builders, developers and other landowners, retail companies and charities.
I have developed excellent working relationships with expert surveyors who specialise in this technical area of law. I am able to help my clients manage their property interests to their full potential, avoid pitfalls in the complex legislation, and achieve successful outcomes.
I am a published author on the subject of leasehold enfranchisement and write for News on the Block, a leaseholder publication and the Estates Gazette. I have also appeared for LexisNexis and the RICS as an industry leading expert.
I appeared as an Expert Witness and Forensic Solicitor before Bournemouth Crown Court in relation to a fraud trial for a missing landlord lease extension claim in 2016 (R v Ian McFarlane) where I assisted the prosecution in obtaining a guilty verdict on 5 accounts of fraud.
Outside of work I dote on my two puggles (pug cross beagles) and of course my husband. I also enjoy gardening and all things gin related!
Accreditations
Law Society
Association of Leasehold Enfranchisement Practitioners
News on the Block's "Hot 100" identifying the most influential people in the leasehold property sector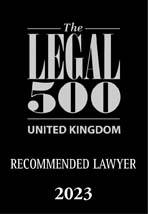 Testimonials
"Louise represented a large group of leaseholders who wished to extend their leases as a group against a large cogent freeholder. Throughout this project we experienced a number unforeseen issues and areas of negotiations we had to overcome. Louise was proactive throughout this process on behalf of her clients and she used her considerable legal expertise to ensure that the whole group received the best outcome they could have hoped for. Both we and the leaseholders involved in this fraught process were happy and grateful that Louise was the solicitor we chose to manage this process"

Louise Burns, Managing Director, Leasehold Solutions
"Her clear explanations to lay leaseholders, people wary of solicitors generally, along with her diligence, tenacity, prompt action as well as her natural charm and approachability has won the total confidence of all"

Sally Thompson, Director, Brampton Manor Residents Association