Looking back on 2021 and the challenges that we have all faced, both commercially and in our day to day lives, it feels more important than ever for us to celebrate the buoyant state of the UK M&A market. During 2021, the Moore Barlow corporate team completed in excess of £500,000,000 worth of deals and supported over 200 of our clients in achieving their strategic business goals.
While the pandemic has brought with it a whole host of challenges, it has also presented many businesses with the opportunity to put their business model under the microscope and to entirely modernise their work practices from the ground up in a matter of weeks. Many of our clients have shared the view that prior to the pandemic such projects would have taken years to implement.
Throughout the past year, our team of 20 corporate lawyers have played a trusted and instrumental role in guiding our clients as they continue to look ahead and build for the future. We have seen first-hand, businesses flourish and enter a new phase of growth, expansion and prosperity.
Key deals of 2021
Project Sequoia
Deal type: Advising on a settlement and subsequent reorganisation and demerger of a large property holding group.
Deal value: £373million
Date: September 2021
Smartlogic
Deal type: Advising on the sale of Smartlogic Holdings, to US based MarkLogic Corporation.
Deal value: Undisclosed
Date: November 2021
Bedroq Ltd
Deal type: Advising Bedroq Limited on the purchase of technology and security specialist, Tellemachus Limited. 
Deal value: Undisclosed
Date: June 2021
See more deals from the corporate team.
With this rekindling of growth, we have witnessed an unprecedented acceleration in the adoption of technology-based solutions and dynamic workflows across all of our focus industries, including financial services, manufacturing and industry, life sciences, healthcare, IT, media and telecommunications.
Despite the uncertainty and the need to rebuild strategic plans from the ground up, many of our clients have led the way by making bold and innovative moves in the marketplace, consolidating their position, and generating new revenue streams.
2021 at a glance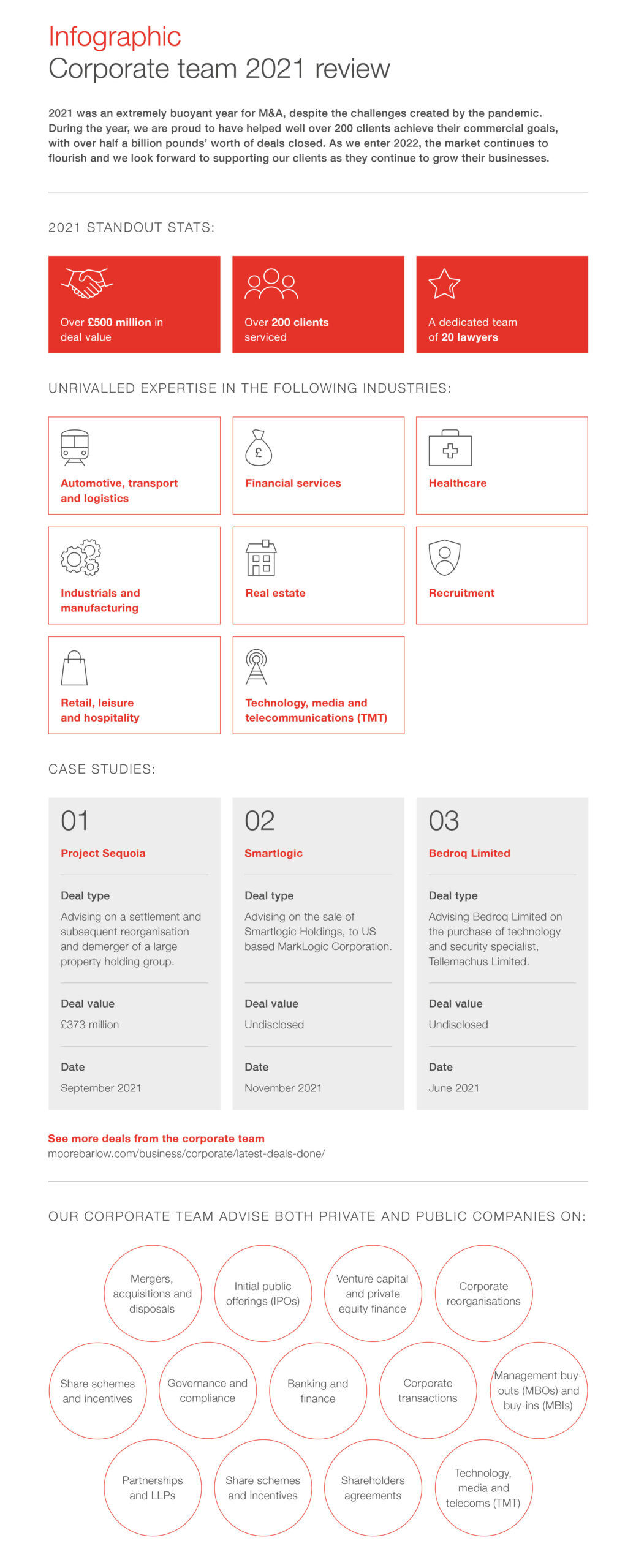 Download the infographic here.
Our clients have continued to make bold strategic moves in order to accelerate their growth and expansion and have only continued to strengthen their positions as a result. Looking ahead, the pace at which new transactions are completing looks set to continue into 2022 and beyond.
We are proud to be working hand in hand with our clients adding value to their projects in order to help them achieve their goals and aspirations in both the short and long term. As we move forward into 2022, we look forward to continuing to help our clients accomplish success. If you are planning a corporate merger and acquisition transaction during 2022 and would like to discuss it with us, please get in touch with the Moore Barlow corporate team.