One of national law firm Moore Blatch's most widely-commended injury lawyers has been shortlisted for the Law Society's 'Solicitor of the Year' Award.
Damian Horan, who has been with Moore Blatch since 1999, and has played a pioneering role in establishing charity partnerships and working on multi-million pound claims, has been put forward for the award which recognises "an outstanding contribution made by a solicitor in private practice", and someone who "goes the extra mile".
Damian will attend the prestigious Law Society Excellence Awards at the Hilton Hotel, on Park Lane, on October 19th, where the best work in the legal profession will be celebrated. His shortlisting follows record numbers of nominations to the competition, and will see him come up against nine other candidates for the final prize.
Specialising in spinal cord injuries, severe head injuries and fatalities, Damian works on cases of maximum severity, and has successfully concluded three seven-figure claims over the last six months alone.
Damian's achievements also include founding Aspire Law in 2014, a unique joint venture between Aspire, a national spinal injury charity, and Moore Blatch. Aspire Law is a social enterprise dedicated to providing a specialist service to people suffering spinal cord injuries and was the first to be granted an "Alternative Business Structure" license. Damian is now the Legal Director of this partnership, and sits on its management board.
In addition, Damian ensures the smooth running of the Moore Blatch practice, and promotes excellent standards as well as a forward-thinking approach. Under his leadership, Moore Blatch has achieved an increase in turnover of 70% in the last eight years, and a doubling of profit over the last two years.
The Excellence Awards are staged by the Law Society, an independent professional body for solicitors, which promotes high standards and the rule of law.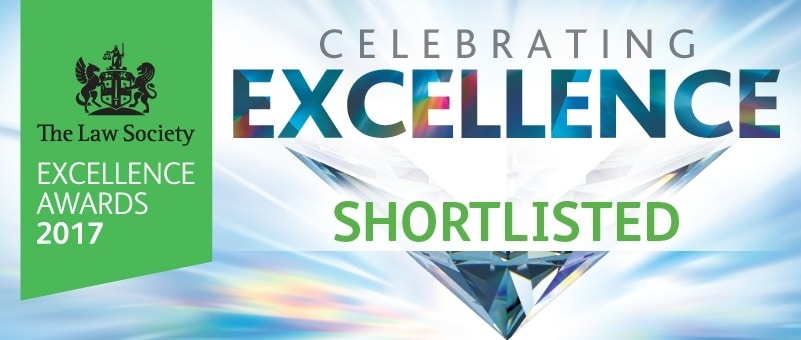 Damian Horan, Senior Partner and Head of Litigation Services at Moore Blatch, said:
"It is an honour to have been shortlisted for the Law Society's 'Solicitor of the Year' award, and I would like to pay tribute to all of my dedicated and talented colleagues for helping me to achieve success over the last twelve months.
"Moore Blatch does vital work to support individuals who have experienced severe injuries, and, as our partnership with Aspire shows, we are committed to providing help to those who most need it.
"We look forward to continued progress over the coming years in all of our work, as we develop our innovative and forward-thinking approach."