Moore Barlow has been recognised as a leading law firm within the UK by once again being named in The Times Best Law Firms list.
Within this year's list, Moore Barlow has been commended for its work in family, personal injury and clinical negligence. The firm has also been recognised for electing Trevor Sterling as the first black Senior Partner at one of the UK's top 100 firms.
It's important that those from ethnic minority and socially disadvantaged backgrounds can see that law is a viable career for them and, if you work hard, you can succeed. In my new role, I will work closely with the partnership as we build a resilient, sustainable and diverse business, and will act as the voice of our people to ensure we continue to build a great place to work and inspire our teams to deliver excellence and passionate support for clients.

Trevor Sterling, Senior Partner
A message from our Managing Partner – Ed Whittington
It's fantastic to again see Moore Barlow being recognised in this prestigious list. Despite only being 18-months on from a significant merger, this ranking is a real indication that the firm is going from strength to strength. We're a human-first law firm with talented people and we pride ourselves in pushing at the legal boundaries for our clients. I am extremely excited about our plans for the future as we continue to progress.

Ed Whittington, Managing Partner
About The Times Best Law Firms list
The Times and independent market-research company Statista conducted surveys among thousands of lawyers and used their responses to identify the leading 200 law firms in England & Wales, and the top 40 in Scotland.
The response from lawyers was higher than in the previous surveys, even though their professional lives had once again been disrupted by the Covid-19 pandemic.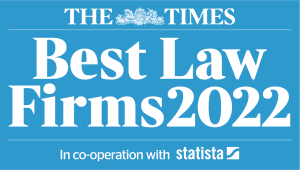 About Moore Barlow
With six offices covering the region from London to the South coast, Moore Barlow advises on a wide range of legal issues, from corporate and commercial, property, commercial and private litigation, family and private wealth, to personal injury and clinical negligence.